Aged Care Resources
The ANMF has long-campaigned for aged care and continues to work to ensure effective implementation of key reforms urgently needed for safety and quality across the aged care sector.
It's Time To Fix Aged Care
After years of inaction, we finally have a plan to fix the crisis in aged care. The Albanese Federal Government have committed to implementing critical recommendations of the Royal Commission including staff ratios, RN 24/7, improved wages, funding accountability for providers and more.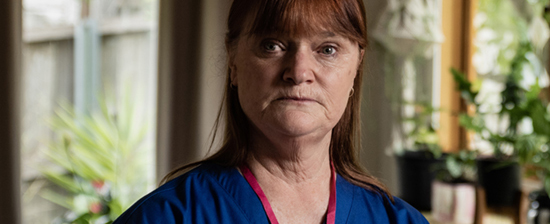 Aged Care Resources
General

The Final Report of the Royal Commission into Aged Care Quality and Safety

View

Aged care and COVID-19: a special report

View

Statement of Ms Annie Butler to the Aged Care Royal Commission - February 2019

View

Submissions

Response to the Aged Care Taskforce - Funding Principles

View

Response to the Office of the Interim Inspector-General of Aged Care's regarding their report on the implementation of recommendations of the Royal Commission into Aged Care Quality and Safety

View

Response to the Department of Health and Aged Care Consultation Paper No. 2 – A new model for regulating Aged Care

View

Submission to the Australian National Audit Office audit of the 24/7 RN and care minute reforms

View

Response to the Inquiry into the provisions of the Inspector-General of Aged Care Bill 2023 and the Inspector-General of Aged Care (Consequential and Transitional Provisions) Bill 2023

View

Response to Exposure Draft and Explanatory Statement - Aged Care Legislation Amendment (Registered Nurse) Principles 2023

View

Submission to the Australian Government Department of Health and Aged Care consultation on a strategic plan for the nurse practitioner workforce

View

Submission to Building, Training and Supporting the Aged Care Workforce

View

Submission to Aged Care Quality and Safety Commission Independent Capability Review

View

Submission to the Department of Health and Aged Care Consultation - Review of the Aged Care Quality Standards

View

Submission to the Department of Health and Aged Care Consultation Paper No.1 – A New Model for Regulating Aged Care

View

Submission to the Aged Care Quality and Safety Commission Amendment (Code of Conduct and Banning Orders) Rules 2022 Exposure Draft

View

Submission to the Independent Health and Aged Care Pricing Authority (IHACPA) Consultation: Towards an Aged Care Pricing Framework Consultation Paper

View

Submission to the Aged Care Data Strategy Consultation Information Guide

View

Submission to the Community Affairs Legislation Committee Consultation: Aged Care Amendment (Implementing Care Reform) Bill 2022

View

Submission to the Consultation on the Development of Star Ratings for Residential Aged Care

View

Submission to Aged Care and Other Legislation Amendment (Royal Commission Response No. 2) Bill 2021

View

ANMF's Response to Counsel Assisting's Final Submissions to the Royal Commission into Aged Care Quality and Safety

View

Submission to the Royal Commission into Aged Care Quality and Safety - Response to a Submission of COTA in Relation to the Development of the Residential Aged Care Visitor Code

View

Submission to the Royal Commission into Aged Care Quality and Safety - Funding, Financing and Prudential Regulation of the Aged Care System

View

Submission to the Royal Commission into Aged Care Quality and Safety - Response to Counsel Assisting's Submissions on Sydney Hearing 2: The Response to COVID-19 in Aged Care

View

Final Public Submission of the ANMF to The Royal Commission into Aged Care Quality and Safety

View

Further Submission to the Royal Commission into Aged Care Quality and Safety - in Relation to the Impact of COVID-19 in Aged Care

View

Submission to the Royal Commission into Aged Care Quality and Safety - in Relation to the Impact of COVID-19 in Aged Care

View

Submission to the Royal Commission into Aged Care Quality and Safety - Counsel Assisting's Submissions on Program Design

View

Submission to the Royal Commission into Aged Care Quality and Safety - Counsel Assisting's Submissions on Workforce

View

Submission to the Royal Commission into Aged Care Quality and Safety - Consultation Paper 1: Aged Care Program Redesign: Services for the Future

View

Submission to the Royal Commission into Aged Care Quality and Safety - Interfaces between the aged care and the health care system

View

Submission to the Royal Commission into Aged Care Quality and Safety - Aged Care in Regional and Remote Areas

View

Submission to the Royal Commission into Aged Care Quality and Safety - Workforce Submissions

View

Submission to the Royal Commission into Aged Care Quality and Safety - Diversity in aged care

View

Submission to the Royal Commission into Aged Care Quality and Safety - Aged Care Workforce

View

Submission to the Royal Commission into Aged Care Quality and Safety - Younger people in residential aged care

View

Submission to the Royal Commission into Aged Care Quality and Safety - Regulation of quality and safety in aged care and how aspects of the current system operate, different approaches to regulation (including in other sectors) and how regulation and oversight of quality and safety in aged care can be improved

View

Submission to the Royal Commission into Aged Care Quality and Safety - Aspects of Care in Residential, Home, and Flexible Aged Care Programs, Rural and Regional Issues for Service of Delivery of Aged Care, and Quality of Life for People Receiving Aged Care

View

Submission to the Royal Commission into Aged Care Quality and Safety - Person-Centred Care, Advanced Care Planning and Palliative Care Services

View

Submission to the Royal Commission into Aged Care Quality and Safety - Aged Care in the Home

View

Guidelines, Policies, Position Statements

Criminal history checks for nurses and midwives and assistants in nursing caring for people in aged care settings

View

Compulsory reporting of abuse in aged care settings for nurses and assistants in nursing

View

Residential and community aged care services: staffing and standards

View

Reports

Careless on Accountability, is Federal Aged Care Funding Siphoned Away?

View

National Aged Care COVID-19 Survey 2022 - Final Report

View

Discussion Paper: Don't worry about the debt…but be aware of how we're spending it

View

National COVID-19 in Aged Care Survey 2020 - Final Report

View

National COVID-19 in Aged Care Survey 2020 - Preliminary Report

View

National Aged Care Survey 2019 - Final Report

View

National Aged Care Survey 2019 - Community Member Companion Report

View

Caring for Growth: Australia's Largest Non-Profit Aged Care Operators

View

All in the Family: Tax and Financial Practices of Australia's Largest Family Owned Aged Care Companies

View

Tax Avoidance by For-Profit Aged Care Companies: Profit Shifting on Public Funds

View

National Aged Care Staffing and Skills Mix Project Report

View

Financial and Cost Benefit Implications of the Recommendations of the National Aged Care Staffing and Skills Mix Final Report

View